Mr. & Mrs. Gebel - Spring Wedding in Oklahoma City
This girl flew herself out of the Southeast and made her way to the planes of Oklahoma! Mitch and Kinsey's wedding was the first wedding I've photographed outside of the southeast. There were a few things that indicated that I was no longer in the south: they serve tea without sugar, they do waayyyy more line dances at weddings, and there are Texas longhorn cows everywhere. Embarrassingly, I didn't know that Texas longhorns still existed. I've never seen them in real life, and I've never seen photographs of them, just paintings. I actually turned the car around, pulled over, and got out of the car to take this picture. They're kind of cute if you ask me.
It rained all day on Mitch & Kinsey's wedding day, but they didn't let it rain on their parade. When Kinsey picked me up on the way to get ready, she was in the best of moods, regardless of it pouring. With it raining, I had to get pretty creative shooting all the details, getting ready, and most of the bridal party portraits inside, but we made it work!
The thing I love about Mitch and Kinsey is that they are so thoughtful and intentional. They gave each other presents on their wedding day - Mitch gave Kinsey a handmade, wood-burned adventure book into which she could add pictures, creative writings, and other sentimental things. Kinsey bought Mitch a bride & groom Lego set and inscribed something special in his tie. Seriously, this is stuff you see in movies.
Mitch seeing his bride for the first time was the sweetest thing EVER.
Please notice that Mitch's two brother's rated the wedding day kiss. I didn't realize that they did that until I was editing the photos. I couldn't help but to laugh out loud.
After their wedding ceremony, there was a cake reception at the church and then we headed to The Montellano to have a formal dinner reception. The reception was full of delicious Italian food, tons of line dancing featuring cowboy boots, two ad libbed musicals, great speeches, and wonderful desserts. Every moment from the cake reception to the sparkler send off was carefully considered; every detail was saccharine.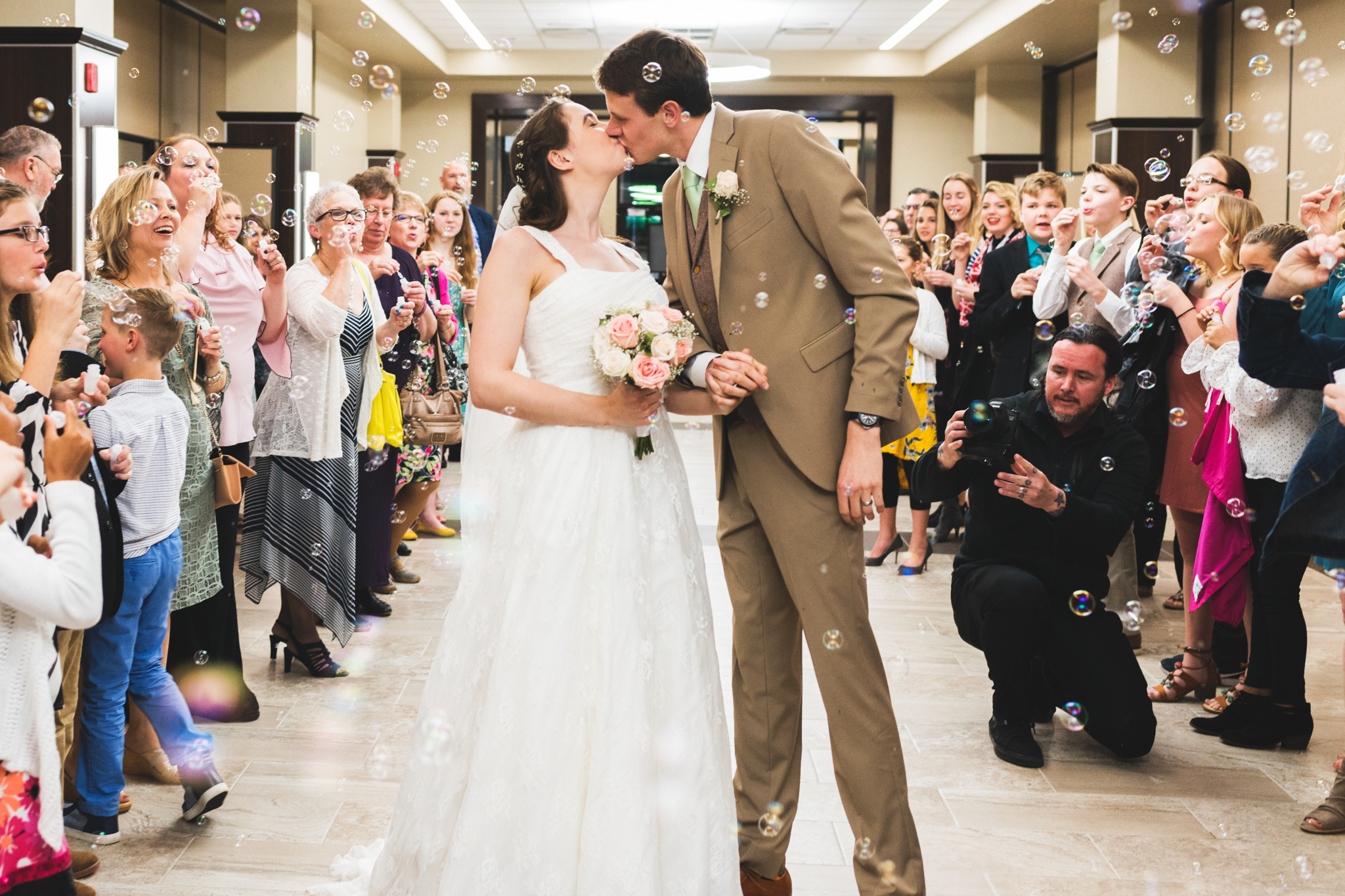 While there was still some light in the sky, and before the party got too wild, I took the newlyweds aside and snapped a few photos of just them. They even let me take them out into the rain. Yes, they are every wedding photographer's dream. As a wedding photographer, I always make it a priority to schedule in the bride and groom portraits on the timeline. After all, those are the ones that will end up on the walls at home.
As the night went on, so did the dancing. I love me a good reception full of joy and dancing, and of course, we ended the evening with sparklers. For a while, sparkler sendoffs would make me nervous. You've got to nail the shot. Make sure the bride and groom are semi in-focus, get the exposure fairly right, all while capturing the joy of the moment. Also, did I mention that hair catches fire easily? I can tell you that I'm learning and growing as a photographer. And for the first time in my life, I can actually say that I feel comfortable with sparkler exits - which is great considering I've got a few more couples that are doing them this year... like my bride and groom at tomorrow's wedding.
Mitch & Kinsey, thank you so much for flying me to Oklahoma to capture y'all's wedding. I'm thankful that Cole and I got to be y'all's first double date, and I'm thankful for y'all's friendship. Hopefully I can make it out to Colorado soon for a visit!
Special thanks to all the vendors that made this wedding possible:
The Montellano | Embellished Weddings | Alumni Productions | David's Bridal | Kenneth Cole Productions | Zales | Eddie's Bar & Grill